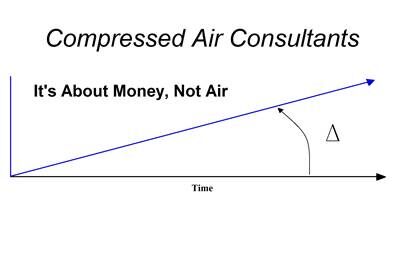 Compressed Air Consultants
417 East Blvd, Suite 204, Charlotte, NC 28203
www.loweraircost.com
Paul Edwards, Principal
(704) 376-2600
Mike Lenti, Principal
(803) 487-5752
Provides compressed air engineering services to companies with systems of medium to high level complexity. They often participate in projects from cradle to grave. They have experts who perform audits, conduct detailed engineering & project management to ensure that projects are completed on time, on budget, while minimizing interuptions. Their ability to supply turn-key project management services allows them to prove their claim that "two thirds of the savings opportunity is on the demand side.". Much like CAM Technologies, CAC is completely independent of the compressor companies.

Process Air Designs, Inc.
11500 Northridge Dr. Evansville, IN 47720
Joe Fritch, President
(812) 455-7807
Supports many large multi-national firms who have multiple operations in North America. They market their Air Compressor knowledge by deploying their "engineering best practice", which is a system solution approach. Their six step process takes clients from defining needs (typically with an energy audit) through system commissioning. They even support the development of quality systems for monitoring & trending, as needed.
Quality Maintenance Services, Inc.
460 Depot Street, Suite 101, Franklin, NC 28734
pkstern@dnet.net
Pete Stern, President
(828) 349-3007
Pete brings decades of application knowledge with him to provide energy audits in the South East. As an independent auditor, Pete will provide system solution recommendations without regard to the brand of equipment in the building. Improvements in reliability, quality and efficiency may be the result of mechanical changes or the addition of automation control.
Compressed Air Technologies, Inc.
525 Galloway Circle Alabaster, AL 35007
nick@compressedairgroup.com
Nick Dabbs, General Manager
(205) 685-8900
Compressed Air Technologies, Inc. employs highly qualified personnel to sell and service our full line of compressors, vacuum pumps, air treatment products, control systems and specially engineered air solutions. We take a systems approach to our customers' compressed air systems. We perform energy audits frequently to help our customers realize energy savings and increase equipment reliability. It is not uncommon for our audits to yield a 25-30% reduction in energy costs, with some customer sites realizing savings well beyond those figures. Our company culture is to gather data for our customers before they make any decision on equipment changes. This is the only way to make a truly informed decision that maximizes the return on investment.
Compressed Air Technologies provides parts and service on almost any make and model of compressed air equipment in the field today. Each service technician employed by Compressed Air Technologies has multiple years of experience servicing the common brands of compressed air/vacuum equipment and can troubleshoot to provide solutions to your service issues. We have over 25 factory-trained service technicians on our staff throughout our region to meet our customers' needs. Our technicians are trained to take the systems approach when they are working in a compressor room to make sure the system is running as efficiently and reliably as possible. Compressed Air Technologies' team members have been leaders in the Southeast U.S. compressed air industry for over 30 years. Our expertise will help to ensure that your compressed air system is running efficiently, while also giving you the peace of mind of maintaining your equipment's reliability.